The project management knowledge base accumulated over the years and based on successful experience in implementing challenging projects within various contract strategies, enables us to perform a full range of project management services, within the approved budget and set deadlines.
The organizational structure of project management in construction depends on the project complexity, its specifics, investment volume, implementation terms, regional and climatic peculiarities, such as work in the Far North conditions, significant farness from populated areas, as well as other unfavorable conditions.
Main Stages of Project Management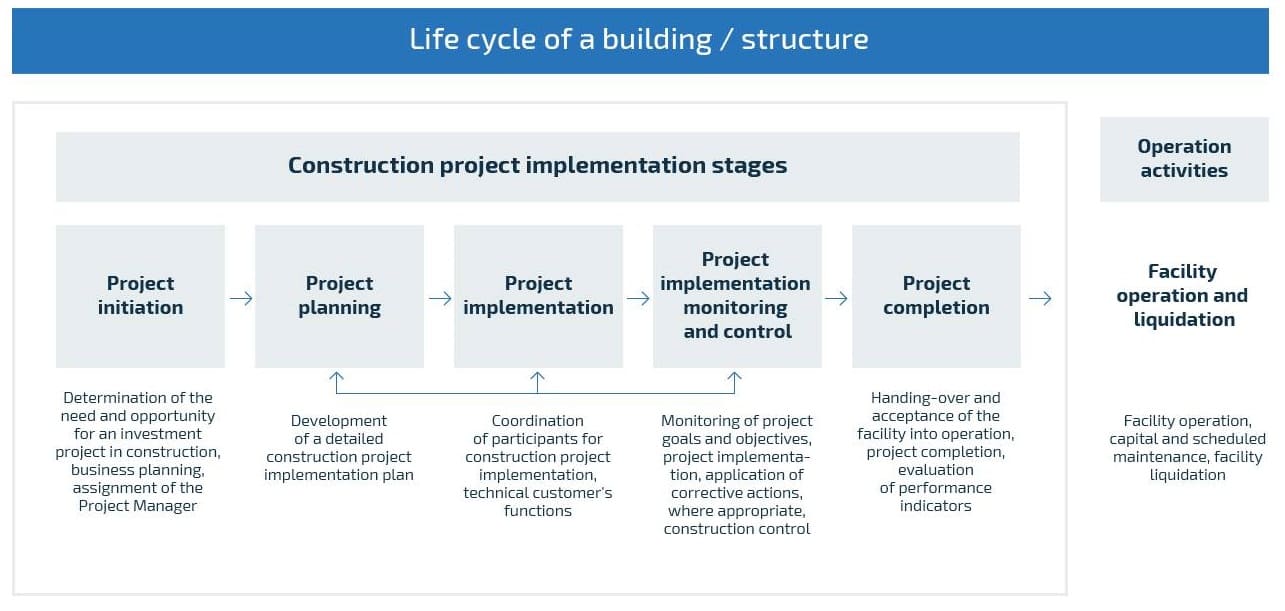 ASP-AQUA has confirmed skills of efficient management of capital construction projects at any stages: from designing and obtaining the initial permissive documentation to implementation of a turn-key project and handing it over into operation with achievement of the target performance.
Project Management Functions

The project and its changes are managed through the following processes:
Initiation of the works
Subject area planning
Subject area determination
Clarifications and confirmations of the subject area
Control of changes in the subject area
Project Cost Management:
Resource planning
Cost estimation
Formation of estimates and budget
Cost control
Contract and Supply Management:
Contract and supply planning
Preparation and request for proposals
Selecting sources
Administration and closing of contracts
Project Communication Management:
Communication planning
Information distribution
Preparation of reports
Project acceptance
Project administration and closure
Project Risk Management:
Risk forecasting and identification
Development of risk response methods
Risk response control
Project Human Resource Management:
Organizational planning
Recruitment of personnel
Build-up and development of the project team
Project Change Management:
Forecasting and identifying of changes
Development of a project protection and modification plan
Performance of the project modification plan
Project Quality Management:
Quality planning
Quality assurance
Quality control
Project Time Management:
Determination of the works, their sequence and duration
Development of a calendar schedule
Progress monitoring